Wheels and Castors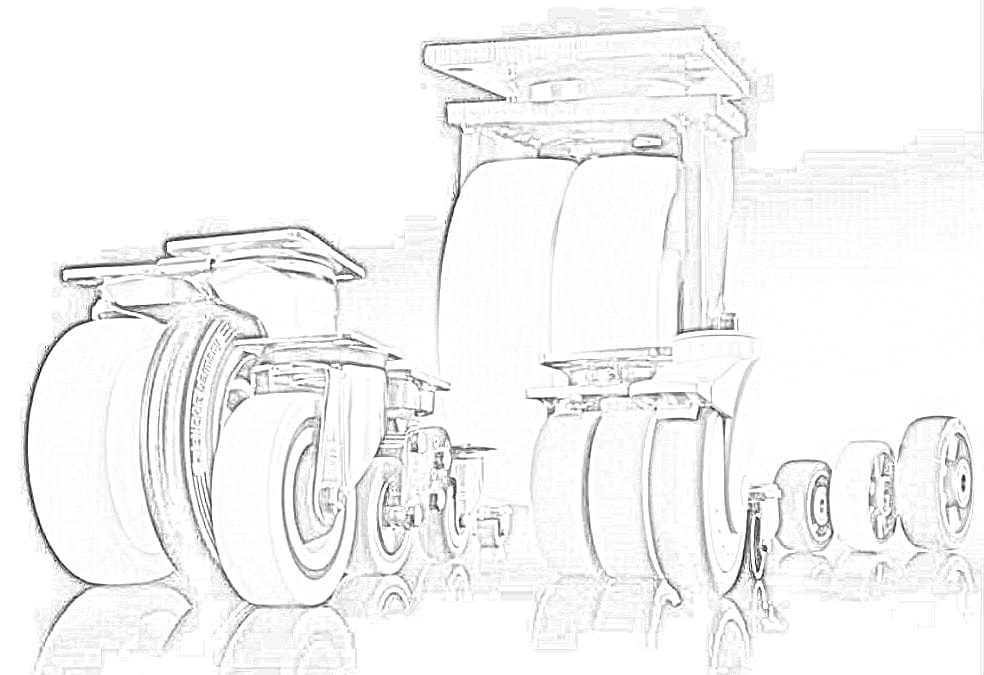 Those who source wheels and castors from Multitrade, end up with a feeling that they have visited a consultant on the subject, without having to pay any consultancy fee.
Every customer notices that wheels are not to be bought, only on the bases of price. The most economical products are definitely available at Multitrade, but the lowest cost items are not the ones which give the best value for money. Wheels and castors have to perform well. They must therefore be suitable for the environment in which they operate, and the application to which they are being put. Every wheel must have the capacity to carry the maximum load which is placed on it.
Because of this, we place our wheels and castors under different categories, and indicate the diameter of every wheel, its rolling resistance, or the tractive force required for particular models. Resistance to high and low temperatures, and resistance to chemicals, are also taken into consideration.
Besides, Multitrade is aware that industry in Malta does not have to wait for the specialized products which are demanded. With this in mind, Multitrade is able to supply practically any requirement , off the shelf, or in little or no time.
Blickle (134)

Emes (9)

Emmeti (15)

Essentra (26)

Kama (2)

Tellure Rota (569)

Brand

:

Blickle

Wheel / Castor Type

:

FIXED BRACKET

Top-plate outer dimensions

:

100mm x 85mm

Bolt Hole Diameter

:

9mm

Wheel Diameter

:

80mm

Wheel Width

:

40mm

Max Load Capacity daN

:

700kg

Total Height

:

120mm

Weight

:

1.00kg

Temperature Resistance

:

-25° C

Temperature Resistance To

:

80° C

Thread and Tyre Hardness

:

80° Shore D

Bearing

:

Ball Bearing

Brand

:

Blickle

Wheel / Castor Type

:

FIXED BRACKET

Top-plate outer dimensions

:

90mm x 66mm

Bolt Hole Diameter

:

8.5mm

Wheel Diameter

:

100mm

Wheel Width

:

32mm

Max Load Capacity daN

:

110kg

Total Height

:

136mm

Weight

:

0.60kg

Temperature Resistance

:

-20° C

Temperature Resistance To

:

60° C

Thread and Tyre Hardness

:

80° Shore A

Bearing

:

Plain Bearing

Brand

:

Blickle

Wheel / Castor Type

:

FIXED BRACKET

Top-plate outer dimensions

:

90mm x 66mm

Bolt Hole Diameter

:

8.5mm

Wheel Diameter

:

125mm

Wheel Width

:

32mm

Max Load Capacity daN

:

120kg

Total Height

:

161mm

Weight

:

0.70kg

Temperature Resistance

:

-20° C

Temperature Resistance To

:

60° C

Thread and Tyre Hardness

:

80° Shore A

Bearing

:

Plain Bearing

Brand

:

Blickle

Wheel / Castor Type

:

FIXED BRACKET

Top-plate outer dimensions

:

90mm x 66mm

Bolt Hole Diameter

:

8.5mm

Wheel Diameter

:

80mm

Wheel Width

:

25mm

Max Load Capacity daN

:

80kg

Total Height

:

111mm

Weight

:

0.40kg

Temperature Resistance

:

-20° C

Temperature Resistance To

:

60° C

Thread and Tyre Hardness

:

80° Shore A

Bearing

:

Plain Bearing

Brand

:

Blickle

Wheel / Castor Type

:

FIXED BRACKET

Top-plate outer dimensions

:

140mm x 110mm

Bolt Hole Diameter

:

11mm

Wheel Diameter

:

200mm

Wheel Width

:

50mm

Max Load Capacity daN

:

75kg

Total Height

:

235mm

Weight

:

1.70kg

Temperature Resistance

:

-25° C

Temperature Resistance To

:

50 ° C

Thread and Tyre Hardness

:

65° Shore A

Bearing

:

Roller Bearing

Brand

:

Blickle

Wheel / Castor Type

:

FIXED BRACKET

Top-plate outer dimensions

:

220mm x 120mm

Bolt Hole Diameter

:

15mm

Wheel Diameter

:

260mm

Wheel Width

:

85mm

Max Load Capacity daN

:

150kg

Total Height

:

308mm

Weight

:

3.80kg

Temperature Resistance

:

-25° C

Temperature Resistance To

:

50 ° C

Thread and Tyre Hardness

:

65° Shore A

Bearing

:

Roller Bearing

Brand

:

Blickle

Wheel / Castor Type

:

FIXED BRACKET

Top-plate outer dimensions

:

60mm x 60mm

Bolt Hole Diameter

:

6.2mm

Wheel Diameter

:

50mm

Wheel Width

:

18mm

Max Load Capacity daN

:

75kg

Total Height

:

71mm

Weight

:

0.10kg

Temperature Resistance

:

-25° C

Temperature Resistance To

:

80° C

Thread and Tyre Hardness

:

70° Shore D

Bearing

:

Plain Bearing

Brand

:

Blickle

Wheel / Castor Type

:

FIXED BRACKET

Top-plate outer dimensions

:

100mm x 85mm

Bolt Hole Diameter

:

9mm

Wheel Diameter

:

125mm

Wheel Width

:

40mm

Max Load Capacity daN

:

200kg

Total Height

:

150mm

Weight

:

0.70kg

Temperature Resistance

:

-25° C

Temperature Resistance To

:

80° C

Thread and Tyre Hardness

:

70° Shore D

Bearing

:

Plain Bearing

Brand

:

Blickle

Wheel / Castor Type

:

FIXED BRACKET

Top-plate outer dimensions

:

140mm x 110mm

Bolt Hole Diameter

:

11mm

Wheel Diameter

:

150mm

Wheel Width

:

50mm

Max Load Capacity daN

:

400kg

Total Height

:

190mm

Weight

:

1.20kg

Temperature Resistance

:

-25° C

Temperature Resistance To

:

80° C

Thread and Tyre Hardness

:

70° Shore D

Bearing

:

Plain Bearing